Tyre Repairs
Before you repair your tyres you need to be certain they are worth repairing. Though often the reverse is true and tyres are removed prematurely from a lack of understanding of how to read tread depth indicators.
Tread Wear Indicators
All road going tyres are legally required to have Tread Wear Indicators, (TWI). For vehicles with a Gross Vehicle Mass, (GVM), of 4.5 tonnes or less, a tyre must have a tread pattern around its circumference that is at least 1.5mm deep across the entyre surface which comes in contact with the road. These are small raised platforms of rubber moulded into the main tread grooves. TWI's are located in the tyre by the following indicators located in the shoulder of the tyre:
The letters 'TWI'

A small triangular arrow head shape (see below)

Sometimes by a company brand logo, (Goodyear 'Wingfoot' the 'Michelin Man', etc.)
So once you have located the TWI's on your tyres it is time to determine if your tyres are worth repairing. While tyres are designed to provide thousands of kilometers of excellent service, there are typical conditions that might mean your tyres need to be removed:
The tyre's tread has worn down to the Tread Wear Indicator, (TWI) 

A road hazard or debris has damaged the tyre 

The tyre is fatigued from being run underinflated or overloaded 

Tyre Repair Precautions
Not all tyres can be repaired. The limits on whether they can be repaired should be based on recommendations or the repair policy of the tyre manufacturer and/or tyre servicers.
Repair units should never overlap. The number of repairs need to be limited by the tyre manufacturer's recommendations and repair policy or as determined by the inspection process.
Some run-flat technology tyres cannot be repaired. Consult tyre manufacturer for their repair policy.
Industry recommended repair methods include: (1) Two-piece stem and patch repair components, and (2) one-piece patch/stem combination repair units.
Never perform a tyre repair without removing the tyre from the rim/wheel so as to be able to conduct an internal inspection.
Never repair tyres with a tread puncture 6mm or over.
Tyre changing can be dangerous and should be done by trained personnel using proper tools and procedures.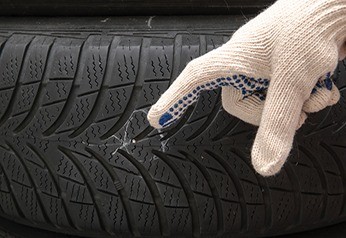 The basic principles for tyre repair
To remove the tyre from the wheel for inspection and repair
To prepare the injured area
Fill the damage cavity with a suitable, vulcanizing material or rubber stem to completely fill the injury and keep moisture out
To seal the inner liner with a patch repair unit to prevent air los
To re-inspect the finished repair
Tyre guide overview